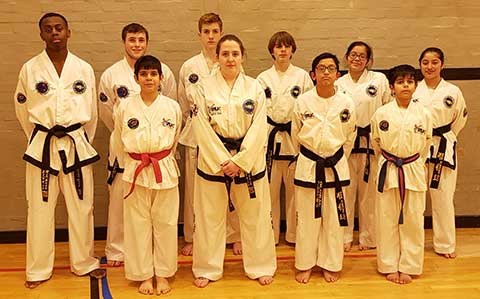 Jee-Goo is a special kind of training for senior coloured Belts (Red belt and above), and Black Belts. It is more intense and is designed to enable senior graded members to develop more advanced techniques.
All senior graded members of our schools, from Red belt upwards, should consider attending Jee-Goo training in order to progress their Taekwondo training. As a Black Belt Instructor, I attend Jee-Goo too.
---
Jee-Goo Dates
Jee-Goo is held by Mrs. Kay Parker (4th Degree Black Belt) every Friday 7pm-9pm at Thomas Becket Catholic School, Becket Way, Kettering Road North, Northampton, NN3 6HT.
Alternative Jee-Goo classes are held by Mr. Steve King (6th Degree Black Belt) every other Wednesday at: The Blue Room, Weavers Sports Centre, Wellingborough, NN8 3JQ. For the latest dates, visit Mr. Kings Jee-Goo website at www.northantsjeegoo.moonfruit.com
Another alternative Jee-Goo is held by Master Richard Auciello (7th Degree Black Belt) once a month on a Sunday in Stamford. For latest dates visit Mr. Auciello's site at www.bluecoattaekwondo.co.uk/calendar/